This page contains instruction on how to make your own 'glow-in-the-dark' poi, using a led powered colour changing light. It took me approximately 3 hours to make including stopping to take pictures for these instructions.
Materials you need
Two colour changing led lights - £1.50 each
I found Zolo Colour Change LED Ball White at B&Q. They are soft enough not to hurt too much when you hit yourself and are really cheap.
Laundry bag - Less than £1 (I bought 3 for € 2)
Also know as mesh washing machine bags, I made four pouches from a single 27x33cm (10.6"x13") bag.
Two pieces of webbing 28x2.5cm (11"x1") each - I used left over pieces (thanks mum!) buy for less than £0.50 per meter
Dimensions are approximate, use wider or thinner webbing to your preference. I think you should be ok with anything over 25cm (10") long each
Two metal split rings diameter 2.5cm (1") - Free from my mums odds and sods jar. Buy for +/- £0.10 each
Diameter depends on thickness off webbing used.
3mm cord approximately 3 meters (10') in length - € 1.75 for 20 meters (65')
Again you can use thinner or thicker stuff. Depending on how long you want your poi 3 meter should be long enough
Two drawstring stoppers - Mine came with the laundry bags

You also need some thread.
Total cost for a pair of poi are around £3 - £7 depending on what you already have lying around.
Tools you need
Sewing machine (optional can use needle if sewn by hand)
Scissors
Safety pin (optional)
Printer (optional)
Create the pouches
Initially I created square pouches for the led balls. However, this didn't look too nice. In my final version I created rounded pouches.
My laundry bags fitted two led lights side by side. I marked the outline on the bag and stitched the pencilled line.
Download the template of the pouches.
Place the template underneath the laundry bag and trace it. If your laundry bag already has a cord casing: re-use it by re-positioning the template!
I left the fabric of the laundry bag doubled up, simply sewing each of the two pouches.
I then cut out the two pouches and created the cord casing.
Thread cord through pouches
Use the safety-pin to thread the rope through the cord casings.
Cut the cord roughly to length. The cord will be doubled up over the whole length.
Add the stopper over the two ends of cord.
Fit the poi into the pouch and close it with the stopper.
Repeat for the second one.
Create the finger grips
The finger grips are a single piece of webbing.
Take one of the two 28cm (11") long piece of webbing.
Fold the webbing double once.
Fold the ends into the piece again. Leave a little space for the split ring to go through later.
Sew two lines across the finger grips. Make sure to double / triple / quadruple the seems for extra strength.
Repeat for the other pair of finger grips.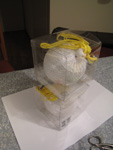 See
my photo website
for some more action pictures.
Add your ideas or comments: